Product Engineering
·
Barcelona, Stockholm
·
Hybrid Remote
Fullstack developer Python
Take charge of building our Healthcare gateway, managing and routing DICOM and other complex medical data standards
We usually respond within a day
We're a startup with our main office in Stockholm and our Software engineering branch in Barcelona. Would you like to put your developer skills to real, life-saving use at a highly progressive startup aspiring to change the outlook for millions of patients? Take part in disrupting the way patients are diagnosed and solve a problem costing global healthcare $6B every year.
Our ambition is to extract, facilitate and present the very best of human and machine intelligence around Medical Image diagnosis, wherever and whenever needed. We offer an atmosphere where the sky's the limit, where we seek to become the very best of UX simplicity and intuitivity in the complex field of Medical Expertise and AI interaction.
At Collective Minds you will be exposed to cutting-edge medical software technology and drive the development of the next generation of global medical imaging platforms. You will be an integrated part of a passionate and fast-moving team developing and providing a world class global service.
Specifically in this role you will be working on the development of our integration layer between healthcare, academia and industry by building a safe, secure and highly scalable integration platform to exchange advanced medical data.
Responsibilities
Evolve the code architecture to keep it flexible and extendable to run a global SaaS offering.
Deliver the highest possible standard in the final product by:
Responsible for building reusable components and libraries
Collect the requirements, design, develop, and maintain highly available, supportable solutions
Build structured APIs for internal and external communication
Work as part of a team of developers and DevOps responsible for defining and driving technology standards
Optimize application for maximum speed and scalability
Document in-line while coding, we work in a regulated environment and aim to automate everything from testing to documentation and requirements.
Skills And Qualifications

+5 years of experience of an advanced web framework for Python. E.g. Django or Flask
Knowledge of working in and deploying dockerized environments
Test automation. Quality mindset.
Integration with third party solutions via APIs
Code versioning with GIT. Experience with SDLC tools like GitLab or Atlassian suite
Understanding of the lifecycle of software based services
Drive all your work in English
Extra points
Modern healthcare integration technologies such as DICOM and HL7 fhir
Previous experience integrating DICOM workflows
PHP or other Javascript based web development frameworks
Healthcare data de-identification and pseudonymization
Other healthcare data schemas such as OMOP
Team

Locations

Remote status

Hybrid Remote
We usually respond within a day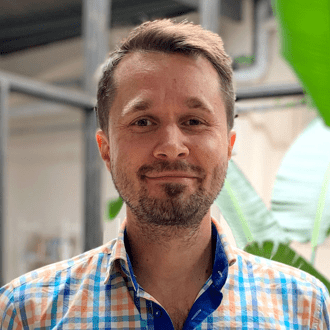 Contact
Pär Kragsterman
Chief Technology Officer & Co-founder – Product Engineering
Related jobs
Workplace & Culture
Our team means everything and we have a great time while working hard to disrupt our industry and make a difference for patients.
- Solve a global problem
- Develop new skills at a high pace
- Work with likeminded people from many different backgrounds and places.
- Fun activities
- Thursday after work
- Weekly padel sessions
About Collective Minds Radiology
Human-machine medical imaging collaboration
Coworkers
22 and growing fast